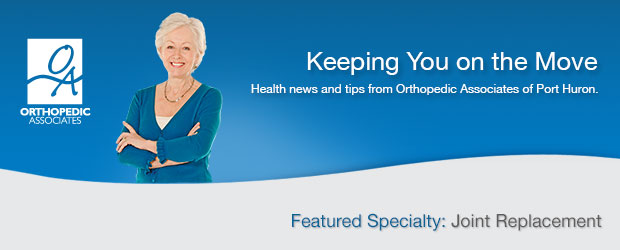 When your shoulders, hips, knees, and other joints become damaged from injury, arthritis, or wear and tear, even the slightest movement can become excruciating. A joint replacement surgery replaces a severely diseased joint, most commonly the hip, knee, or shoulder, with a well-designed and functional artificial implant. Our joint replacement doctors have extensive experience and specialized training using the most current technology to get you back to the activities you love as quickly as possible.
Our Joint Replacement Doctors

Like us on Facebook
Orthopedic Services
Location
Orthopedic Associates
of Port Huron
940 River Centre Drive
Port Huron, MI 48060
Contact Us

or click here to subscribe
Orthopedic Associates of Port Huron has been selected by the Detroit Free Press as one of the Top 100 Workplaces of 2012. Click here to learn more.
Joint replacement is a major surgery, but one that can result in a significantly improved lifestyle. The joint replacement experts at Orthopedic Associates of Port Huron suggest looking for a few key signs to help you determine if you're ready for a joint replacement procedure.
The fast-paced action of a basketball game can lead to the potential for a wide range of injuries, most often to the foot, ankle, and knee. Learn how you can prevent injuries on the court this season.
Regardless of age, maintaining strong bones is an essential part of preventing bone diseases like arthritis and osteoporosis. Find out what to eat and what to avoid with these helpful suggestions from Orthopedic Associates of Port Huron.
Connect with Orthopedic Associates of Port Huron and stay up-to-date on everything from the latest advancements, injury trends, tips on prevention, and more.
©2012, Orthopedic Associates of Port Huron. All rights reserved.
940 River Centre Drive | Port Huron, MI 48060 | (810) 985-4900 | info@oaph.com