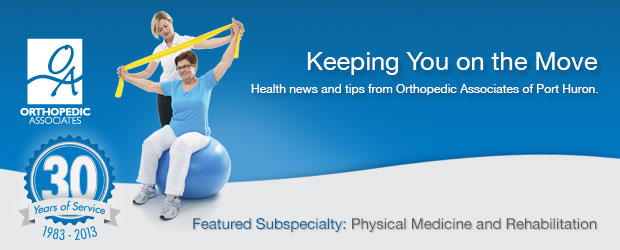 Physical medicine and rehabilitation is a nonsurgical, conservative approach to treating and preventing orthopedic injuries and conditions. The specialty-trained physical medicine and rehabilitation doctors at Orthopedic Associates of Port Huron are dedicated to helping you manage pain and restore your active lifestyle through physical therapy, exercise, medication, and injections.
Our Physical Medicine and Rehabilitation Doctors

"Like" Us on Facebook
Orthopedic Services
Location
Orthopedic Associates
of Port Huron
940 River Centre Drive
Port Huron, MI 48060
Contact Us

or click here to subscribe
Orthopedic Associates of Port Huron celebrated its 30-year anniversary on Thursday, May 16, 2013. Read on to learn about how the practice has changed since its founding in 1983 and how it continues to grow and thrive.
We always love to hear feedback from our patients on the experiences you've had with the doctors and staff at Orthopedic Associates of Port Huron. In honor of our 30-year anniversary, we're inviting all of our current and past patients to share your stories. Read on to learn more.
The number of knee replacements, both total and partial, performed in the United States has increased significantly in recent years, with totals expected to continue multiplying for years to come. Orthopedic Associates of Port Huron joint replacement surgeon, Dr. D. David Ernst, provides insight on the growing demand.
Within the neck and upper back, the cervical spine performs a variety of functions, including housing and protecting the spinal cord, supporting the head and its movement, and facilitating blood flow to the brain. If you're suffering from neck pain caused by inflammation of the nerve roots in your cervical spine, a minimally invasive cervical epidural injection can help reduce your pain and inflammation. Read on to learn if this is the right procedure for you.
At Orthopedic Associates of Port Huron, our physical medicine and rehabilitation specialists are dedicated to providing the most advanced techniques and latest technology to diagnose, alleviate, and manage patients' pain and discomfort. Read on to learn how electromyography testing can help you.
Through a recent study, researchers have found that, among other benefits to the body and brain, exercise can have a positive impact on memory. Learn more about how you can boost your memory through exercise.