We now accept online bill payments.
Featured Physician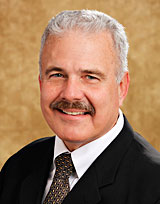 William H. Mouradian, M.D.
Expertise: Spine
Areas of Expertise
Locations
6815 Noble Avenue
Van Nuys, CA 91405


Contact Us
Phone:
(877) 952-8484
Web site:
www.scoi.com
E-mail:
moreinfo@scoi.com


or click here to subscribe
Volume 2 Issue 8
Dr. Marc Friedman, an Arthritis Walk Honoree
Arthritis affects nearly 40 million Americans, leaving adults as well as children's lifestyles hampered by the joint disease. To help in the fight against arthritis, the Arthritis Foundation held a walk at the Six Flags Magic Mountain on Sunday, June 5, 2011. Involved in that walk as an honoree, was Southern California Orthopedic Institute's very own Dr. Marc Friedman.
Throwing Program Restores Patients' Fitness
While sports are a great way to stay in shape and have fun, many injuries can occur, forcing particpants to the sidelines. Southern California Orthopedic Institute's interval throwing program is helping those who suffer elbow and shoulder injuries get back onto the field.
CPU-Navigated Procedure Gives Woman Needed Strength
While out walking her dog, 71-year-old Sandra badly injured her right knee, causing her severe pain for nearly a year. After a medical examination, it was discovered that Sandra had arthritis in both of her knees. Everything soon changed when she sought treatment from Dr. Jaime D. Hernandez at Southern California Orthopedic Institute.
Additional Help for Our Patients
To provide additional assistance and get patients on the road to recovery faster, Southern California Orthopedic Institute now has a Practice Liaison, named Audrey Saporta, who is available if you are unable to reach one of your physician's team members.
Stay Safe in the Water This Summer
Swimming is a great way to stay fit and have fun at the same time. However, carelessness can cause shoulder, wrist, knee, foot, and ankle accidents.